Amanda Gorman caught us all by surprise at the Presidential Inauguration.
The vibrant 22-year-old stood on stage and her words became the shining light of hope our country needed. She helped us usher in a sense of calm, healing, trust, and hopefulness of new beginnings. Her light is so bright, it's awesome!
If you haven't seen her inauguration poem, "The Hill We Climb," take the time to watch it here:
But Amanda Gorman, even though she's only 22, certainly didn't come out of nowhere when she walked onto the stage Jan. 20. In fact, she was first recognized in 2013 as the National Youth Poet Laureate — America's first.
We wanted to learn more about her and thought she'd be a perfect subject for study for Black History Month, because she has already impacted our world, and given the work she has already done at just 22, seems destined to help us find the words to memorialize important moments in our future.
Here are five facts about Amanda Gorman we were surprised to learn:
1. She has a speech disorder
It's hard to believe given what an amazing orator she is, but Amanda Gorman has a speech impediment because of an auditory processing disorder. She couldn't pronounce certain letters, with "r" giving her the most trouble. Reading her poetry out loud helped her.
"Even to this day sometimes I struggle with it, which is difficult when you have a poem in which you say 'rise' like five times," she told CNN.
That made her reading at the inauguration even more meaningful as President Joe Biden also has struggled with a speech disorder.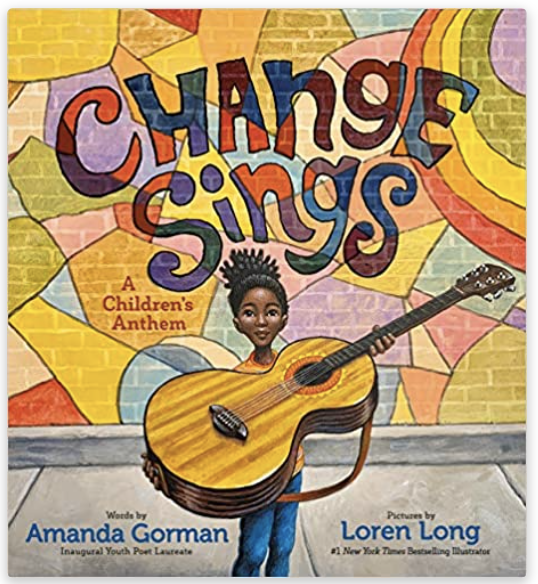 2. She's written a children's book
Her first children's book, Change Sings: A Children's Anthem, is meant to empower children to be hopeful and make change. That's a message we can get behind! The book will be released on September 21, 2021, and is available for pre-order.
3. She was raised by a single mom
Amanda grew up in Los Angeles, raised by her mother, Joan Wicks. She has two siblings, including a twin sister.
4. She loves Hamilton
She often talks about how important Hamilton has been to her writing and even included two references to Hamilton in her inauguration poem (my Hamilton crazy kids spotted them right away!). She once handed Lin Manuel a poem, but was too nervous to read it to him. She remembered that experience while thanking him for writing about her for the Time Magazine 2021 "The Next 100 Most Influential People" edition.
Proud to be in the #TIME100NEXT list! This @Lin_Manuel intro is a gift. When we met yrs ago, I shoved a poem into his hands & said "I'm too nervous to speak but this is what I'd say if I could!" He hugged me & said he'd keep it to say he knew me when. Look at us now. https://t.co/BLBzRIZvqs

— Amanda Gorman (@TheAmandaGorman) February 17, 2021
5. She sees the power of technology
Gorman won a $10,000 grant in 2017 while studying at Harvard as part of the OZY Genius Awards, which aims to support the next Albert Einstein or Mark Zuckerberg. Gorman won the award for a project called "Generation Empathy," an experiential virtual reality project that seeks to empower teenage girls.
She told Ozy: "The seed of the project came out of me having this experience on Martin Luther King's birthday. We were visiting these museums, exhibits, talking about identity, making change. What was really interesting to me was thinking: What if there was a way in which all students, regardless of their ZIP code or socioeconomic status, could have field trips like that?"
Thank you, Amanda Gorman, for inspiring all of us to dream.
Kimberly Wright is the Georgia publisher of Macaroni Kid Decatur and Macaroni Kid East Atlanta. Kara Murphy is the publisher of Macaroni Kid Erie, Pa.